Welcome to Flightkickz's Offical Website Flightkickz.com!
How Flightkickz's factory(FK/Ln5) makes sneakers
Jul 2, 2023
The process of making sneakers.


You can also check our

youtube/@flightkickz

(click) to see the video of making shoes behind the lens.


---------------------------------------------
First, let's understand the specialized machines used in shoe production. These machines of Ln5 factory are all purchased from Nike/Adidas' official partner factories.


1.Shoe Material Cutting and Marking
Inside the shoe factory, the first operations in the manufacturing process are the cutting and marking operations. The factory uses cutting presses, also called clicker cutting machines. The clicker press is one of the standard pieces you will see in every shoe factory, and they require cutting dies for each shoe pattern part.
New technology for cutting is the computer-controlled drag knife cutter. These machines use a vacuum table to hold materials in place while the blade cuts all the pattern parts. This technology is critical for custom mass production. Once the shoe parts are cut they get processed, with alignment marks screen printed on the parts and any logos added. Logos can be silkscreen printed, radio frequency welded or embroidered on the cut parts.
2.Footwear logo application
After the shoe parts are cut and marked for assembly, they may need to have logos added. Logos are added by silk screen printings, embroidery, or heat welding.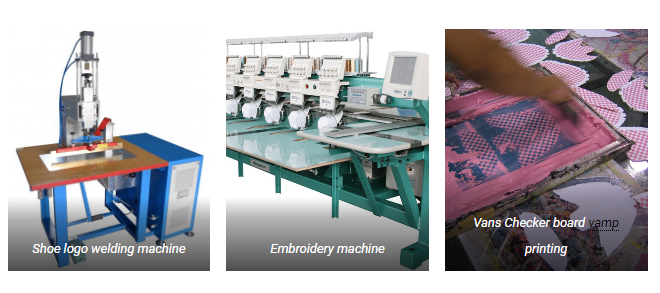 3.Footwear upper stitching

The sewing machines come in many types: post, long arm, short arm, etc. The stitching line will have hundreds of these machines, the amount depending on the complexity of the shoe design. The style of the machine will also change to fit the specific operations required to make each shoe design.

Once the stitching is finished, it is time to set the shape of the toe box and heel counters. These machines heat the thermoplastic counters inside the toe and heel, then clamp the shoe to set the shape.

With the upper almost complete, we will need a special sewing machine to finish it. The Strobel sewing machine was invented by a guy named…you guessed it… Strobel! This machine is used to sew the bottom fabric onto the upper, closing it. The fabric bottom or "sock" is marked with alignment lines to ensure the upper is straight and not twisted. Now the upper is ready for lasting and assembly.